Mark enlisted in the U.S. Army and served three tours in Vietnam. He arrived in coun

try February 1970 and served with D Battery, 25th Artillery, 277th and 264th Field Artillery Detachments (23rd Artillery Group) in III Corps (Gia Dinh and Hau Nghai Provinces, Tay Ninh, and Cambodia). His primary MOS was 17K20, Field Artillery Target Acquisition. He DEROS'ed (returned from overseas) in March of 1972. He is currently Superintendent of the Natural Resources Division, Howard County, MD and professional photographer. His favorite subjects are Vietnam and Maryland's eastern shore. He and wife Huyen live in Baltimore County, MD.
Evening nears.
The Hunter-Killer teams fly past performing their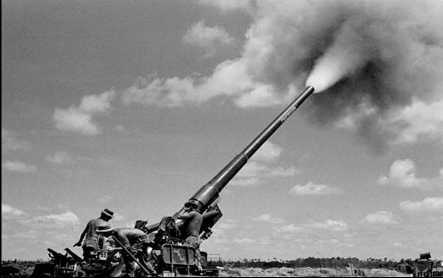 late day rituals.
They dart about, just above the trees and paddies
like dragonflies in daunting ballot.
Darkness arrives and with it
evils of the night.
Soon the C R R R R U M P of artillery
will split the soft, dark earth
and tear the flesh of those who
share that space.
The nightly "cat and mouse" game, the hunters and
the hunted, silently stalking.
Neighbor against neighbor.
Brother against brother.
Shadows lengthen.
Smell the wood fires and cooking rice.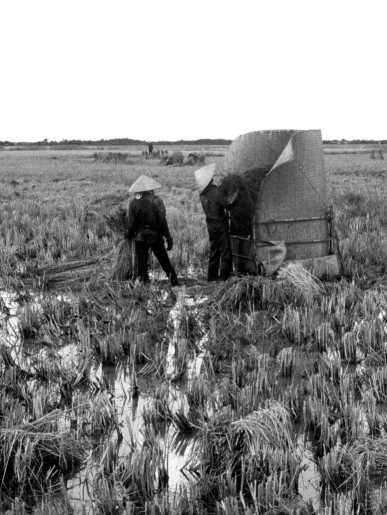 Mothers shout to their children
to stay away from the hot, glowing charcoal.
The children turn to tease the family dog or
chase the chickens searching for food.
Joy overflows in this village.
In the distance, I hear the cheerful shouts of
young boys bringing buffalo home from the fields.
The setting sun fills the sky with pastel hues
that stretch across the heavens.
Tranquility spreads over this village.
Young men eat slowly in silence.
They bid good bye to their families that gather
at the edge of town. They disappear
into the lengthening shadows carrying tools of war.
How many more mothers
will lose their sons tonight?
Sorrow abounds in this the village.